Like half the country, the ACT is back in lockdown and this means that a bunch of my IRL bookish happenings shifted to Zoom. But one that was always intended for Zoom was F*CK COVID: An Online Literary Affair, organised by the dynamic team at the ACT Writers Centre.
When the event was first proposed I remember thinking that online probably wasn't necessary. Melbourne, Sydney and Canberra weren't in lockdown — oh, how those days seem like a distant dream! But clearly the organisers are fortune tellers and this event ended up being the highlight of my locked-down weekend. Plus every time I typed 'F*CK COVID' it was like a fist punch of defiance.
The event sold out in three days. Then more tickets were released, and it quickly sold out again. I was on a panel with Mark Brandi, moderated by Nigel Featherstone, called 'Hard truths; Risky fiction', and what an absolute delight it was. Nigel was his usual magnificent and thoughtful self, expertly guiding the conversation, and Mark and I found so many synergies in our work and writing process.
Mark's The Others is an absolute cracker of a book and kept me up until the early hours of the morning. Like The Breaking, which I was there to discuss, it's tricky to talk about without giving away key plot points! But I found our conversation so rich and thought-provoking, and I hope the audience did too! It's always difficult post-event to remember exactly what was said, which is why Sue Terry's incredible write-up of the panel is invaluable! I will defer to her summary of everything, except to say that I work full-time as an editor, not part-time, which makes finding time to write extra challenging, especially when you combine that with being a single parent of three children. But there are cracks in life, and I seize on them whenever I can!
Jumping now to school visits, I wanted to mention the gorgeous kids at Dawul Remote Community School which is located in the East Kimberley region of Western Australia. This is where Zoom comes into its own, because how lucky was I to visit this school remotely! I shared the stage (or screen!) with DeadlyScience's Corey Tutt. I was fortunate to edit Corey's brilliant middle-grade book, The First Scientists (Hardie Grant, out 13 October 2021), so it was an absolute blast chatting to the kids with him. They had so many great questions about books and writing, and I came away enlivened, as I always do. My own kids are homeschooling during lockdown and were under strict instructions to keep out! Just one of the many challenges (as all parents know) of trying to simultaneously work and homeschool.
Next up was a pre-record for the inaugural Macgregor Primary Writers Festival — a whole week in which the school does nothing but celebrate books and writers. How blissful does that sound! They had an incredible line-up, including Andy Griffiths, Jackie French, Bronwyn Bancroft and yours truly, among others. If only I could travel back in time and be a kid at that school!
And finally there was my Editing Essentials presentation for SCBWI (Society of Children's Book Writers and Illustrators) which covered editing the full gamut of kids books, from picture books through to YA. The SCBWI crew organised a stellar line-up and there was a lovely big crowd who had great questions. When asked which was my favourite children's genre to edit I had to say ALL OF THEM!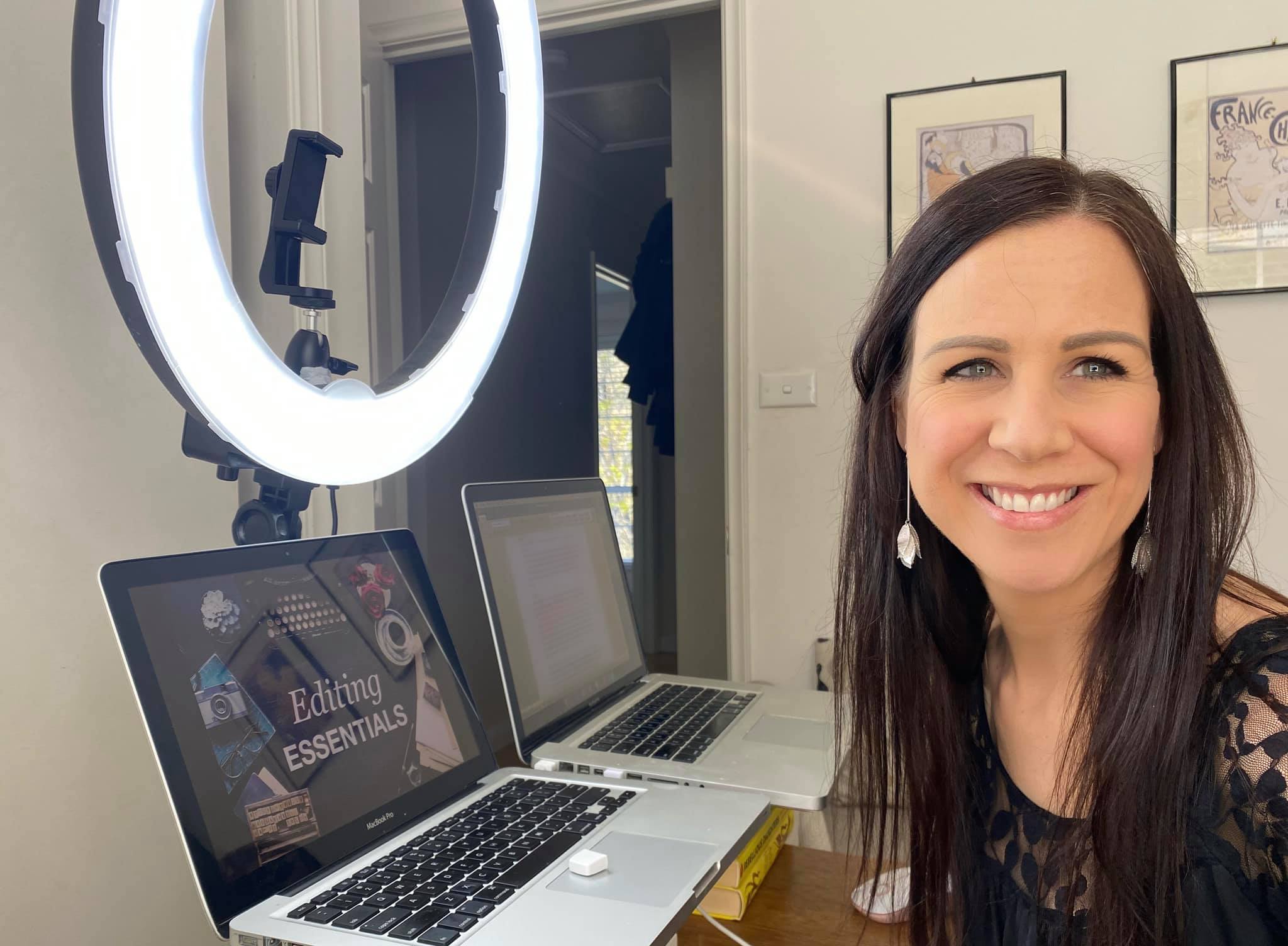 These events have brightened my lockdown immeasurably. Massive thanks to all the organisers who are making sure adults and kids alike have plenty of literary goodness to sustain them in these crazy times.