Hannah Bird has just arrived in Thailand. Disoriented and out of her depth, she meets Deven, a fierce and gutsy Australian expat who sweeps her into thrilling adventures rescuing elephants.
As they head deeper and deeper into the fraught world of elephant tourism, their lives become tangled in ways Hannah never imagined. But how far will they go to save a life?
Hannah is about to make a critical decision from which there will be no turning back, with shattering consequences.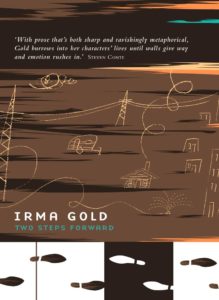 It's easy to get stuck in a rut. What binds the characters in Two Steps Forward is an indomitable desire to climb their way out. Located in familiar Australian settings, this collection of stories brilliantly weaves together authentic characters and adverse scenarios. You'll encounter battlers, underdogs and people who are doing it tough. Folks to applaud and causes to cheer. In this moving, assured debut, Irma Gold celebrates courage and challenges our notions of what it takes to be happy.
Featuring Judith Wright • Bill Gammage • Alex Miller • Marion Halligan • Les Murray • Jackie French • Omar Musa • CEW Bean • AD Hope • Kate Grenville • Roger McDonald • Jack Heath • Garth Nix and 62 others
Sparkling writing from some of Australia's finest authors, edited by Irma Gold. This inspired anthology reveals the rich diversity of writing that has emerged from the foothills, boulevards and hidden corners of the Canberra region over the last 100 years. Follow the interwoven threads through this remarkable and revealing journey of Australian storytelling. With its mix of fiction, nonfiction and poetry, The Invisible Thread promises to captivate and enthral all lovers of literature.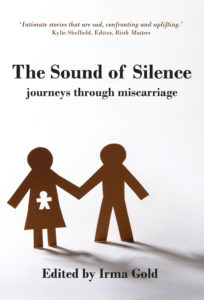 Miscarriage is so common and yet it is an unspeakable subject. Women often grieve alone, mourning a child they have never met but whose future they have already imagined. In The Sound of Silence 22 women speak out about their experiences of miscarriage. These are stories of loss and loneliness, hope and joy, strength and courage, and, most of all, overwhelming love. They are a reminder to all women who have experienced a miscarriage that they are not alone.
Featuring Enza Gandolfo (Stella Prize shortlisted author of The Bridge), Rebecca Freeborn (author of Hot Pursuit and Misconception), Choechoe Brereton (author of A House for Donfinkle), Melissa Ferguson (author of The Shining Wall), Karen Andrews (author of Crying in the Car), and many more.