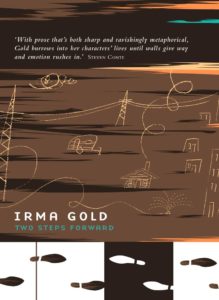 Winner, Canberra Critics Circle Award for Literature, 2011
Shortlisted, Most Underrated Book Award, 2012
Shortlisted, ACT Writing and Publishing Awards for Fiction, 2012

It's easy to get stuck in a rut. What binds the characters in Two Steps Forward is an indomitable desire to climb their way out. Located in familiar Australian settings, this collection of stories brilliantly weaves together authentic characters and adverse scenarios. You'll encounter battlers, underdogs and people who are doing it tough. Folks to applaud and causes to cheer. In this moving, assured debut, Irma Gold celebrates courage and challenges our notions of what it takes to be happy.
Buy Two Steps Forward direct from the publisher (no postage for Australia) here. Ebook also available here.
Praise for Two Steps Forward
A collection of bittersweet, beautifully written short stories…one can only hope a full-scale novel in which she develops her talents will be next.  Sydney Morning Herald (read full review here)
Gold's themes are refreshingly varied and hers is a welcome new voice…her longest stories are excellent.  The Australian
A beautifully crafted volume.  The Age
Gold uses her stories in the way I like best: the whole of a life distilled into one moment, myriad consequences and possibilities still shimmering at the end, but still somehow finely tuned so that all that must be said is said, and nothing more.  Southerly
A virtuoso performance in the fine art of the short story…The stories are so deft, elegant and compelling that I was disappointed when I finished them. I wanted more and I eagerly await her second collection.  NSW Writers Centre magazine  (read full review here)
A lush account…She is consistently good at producing vignettes.  The Canberra Times
'authentic', 'finely observed' and 'engrossing'  Whispering Gums  (read full review here)
Precise prose, assured use of voice and deft treatment of private tragedy.  Verity La
I was browsing the 'Australian writers' shelf at Readings and this small book caught my eye — and I'm glad it did. It's proved to be a terrific find. Every short story in Gold's debut short story collection is well crafted. Each story is told in a different voice, without smacking of the experimental, uneven tone of some short story collections. The characters are deftly drawn and believable, from an old man wanting to see his mate to the single parents trying to rebuild relationships, from an aging junkie coming unstuck at the sight of his son to a woman who works at a detention centre, having wanted to 'go inside, to help, to see what it's really like'. Gold's characters, deep in everyday life, are often struggling with loss and always reaching for connection…This collection is a fantastic debut.  Goodreads
These stories catch the poignant sensuousness of difficult lives, their daily tragedies and unexpected joys.  Marion Halligan
With prose that's both sharp and ravishingly metaphorical, Gold burrows into her characters' lives until walls give way and emotion rushes in.  Steven Conte
Gold seamlessly inhabits the lives of single mothers and fathers, a shell-shocked immigration detention centre worker, the poor, the homeless and the dispossessed. Many of the stories made me long for more, which is the mark of a masterful writer.  Rebecca Lim
This book knocked my socks off. Irma Gold writes pain and hope so well (amongst much else). The characters in these stories are full bodied and easily conjured. There were tears…I will be looking out for more by this author.  Goodreads
Selected links
Read a review in Readings magazine here.
Read an interview with Overland literary journal here, and BMA magazine here.
Read an extract here, and listen to Irma reading an extract here.
Listen to Irma being interviewed on Triple RRR about Two Steps Forward: