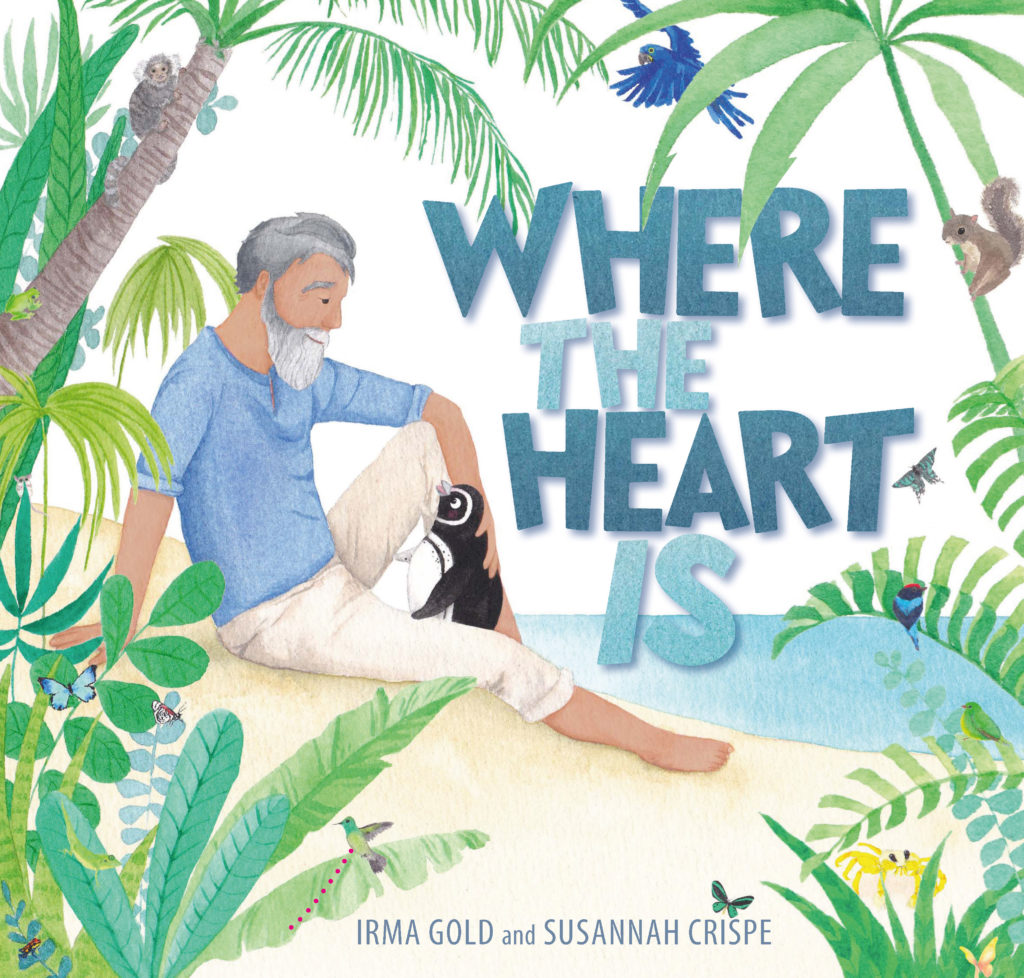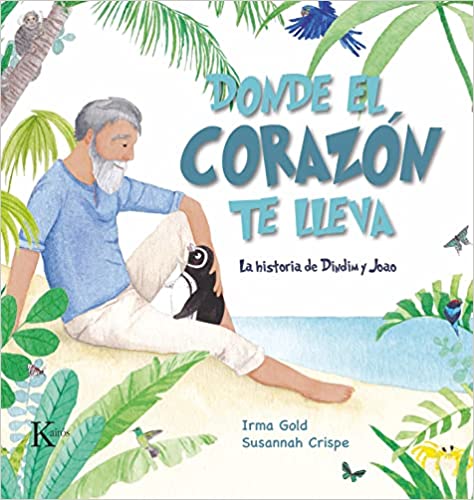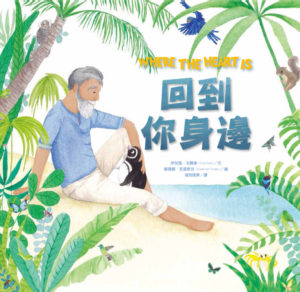 Buy the English edition.
Buy the Spanish edition.
Buy the Chinese edition.
Get the teachers' notes.
Watch Sarah Ferguson, Duchess of York read Where the Heart Is.
Listen to a review of Where the Heart Is on the popular Your Kid's Next Read podcast (starts at 14:55), including suggestions on how to use the book for K–6.
Listen to Irma interviewed about Where the Heart Is on the One More Page podcast, starting at 3.05.
Listen to Irma Gold and Susannah Crispe interviewed about the process of creating the book.
Winner, ACT Notable Award for Children's Fiction
Published in Australia, New Zealand, Canada, United States, Mexico, Central and South America, United Kingdom, Spain, China

In 2011, Dindim the Magellanic penguin washed up on an island beach near Rio de Janeiro. He was rescued by a man called Joao, who nursed him back to health, and created a lifelong bond. Since then, Dindim has spent most of every year with Joao, leaving only to travel 8000 miles to the Patagonia coasts of Argentina and Chile. Where the Heart Is was inspired by this extraordinary true story.
With beautiful prose and stunning illustrations, Dindim's story will capture the hearts of young readers and adults alike. His journey across the ocean highlights both the little penguin's intrepid nature and the variety of wildlife he meets along the way. From whales to albatross, children will discover the kaleidoscope of life that exists in the ocean.
Where the Heart Is also offers a window into discussing big issues with young readers, such as the oil spill that almost killed Dindim, and the effects of climate change on animal habitats. Magellanic penguins are a near threatened species, and it is vitally important to increase our awareness of the dangers faced by these beautiful birds.
Poignant, moving, funny and heartfelt, Dindim and Joao's story is a celebration of friendship and nature. It explores the deep bond that can form between humans and animals, and encourages children to think more about the incredible animals who share our world.
Praise for Where the Heart Is
'What a beautiful, beautiful book. Congratulations!'  Sarah Ferguson, Duchess of York
'Where the Heart Is offers insights into the comfort to be found in friendship, and the strong bonds that can form between humans and animals. Crispe's illustrations are fresh but never overwhelming; her use of watercolour and digital collage conveying a tenderness that supports Gold's eloquence. A rare bird of a book: light and deep in equal measure.'  South Sydney Herald
'Gold's engaging prose and strong storytelling cadences combine with Crispe's endearing watercolour illustrations to bring the story to life. There is pathos, sentiment, adventure, danger and solace in this charming book about the strength of friendship and the power of kindness and caring.'  The Canberra Times
'Gold pulls you right into the emotion of this true story with a retelling that tugs on heart strings and inspires bravery and caring for others … A beautiful story to share at home, and equally as perfect to explore as a class, Where the Heart Is is a powerful and joyful tale that proves friendship and love know no distance.'  Kids' Book Review, read the full review

'This book is a perfect example of the capacity of the picture book to both enchant and inform us … Evocatively illustrated by Susannah Crispe and skilfully told in words by Irma Gold, this story is indeed one that both touches our hearts and intrigues us … I hope that this author and artist will work together again as their combination does seem to be especially magical.'  Barbie Robinson on Living Arts, read the full review
'It's a really sweet, delightful story. And I really enjoyed the illustrations by Susannah Crispe. I loved the colour palette and the really cute little penguin character.' One Page podcast, listen to the episode
'I dare you to read this book and not close it with a smile on your face!' Rebekah Gienapp, read the full review

'Young readers will delight in its beautiful depiction of the intrepid penguin's journey, and the wildlife he meets on the way. Heartfelt and educational, this is a celebration of nature and belonging.' Australian Booksellers Association
'This is a must have!' Dream Reader Kids
'This book will resonate with your entire primary school audience. It is an absolute delight. I highly recommend this book for your collection.'  Teacher librarian, The Surf Coast Bookshelf
'What makes this a gorgeous book is the way Gold tells the story… It encourages us to think about kindness, tenderness and loyalty, making it a feel-good read.' Whispering Gums, read the full review

'This book is a stunner … Books like this show children that small actions make a difference, and help tell stories of friendship and the importance of the environment and conservation efforts.'  Sarah, Let Them be Small