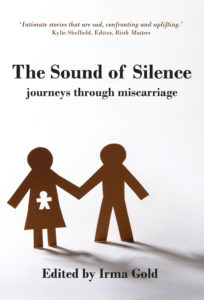 Winner, ACT Writing and Publishing Awards for Nonfiction, 2012
Winner, Canberra Critics Circle Award for Literature, 2011

Miscarriage is so common and yet it is an unspeakable subject. Women often grieve alone, mourning a child they have never met but whose future they have already imagined. It is a private, hidden kind of grief. In The Sound of Silence twenty-two women speak out about their experiences of miscarriage. These are stories of loss and loneliness, hope and joy, strength and courage, and, most of all, overwhelming love. They are a reminder to all women who have experienced a miscarriage that they are not alone.
Featuring Enza Gandolfo (Stella Prize shortlisted author of The Bridge), Rebecca Freeborn (author of Hot Pursuit and Misconception), Choechoe Brereton (author of A House for Donfinkle), Melissa Ferguson (author of The Shining Wall), Karen Andrews (author of Crying in the Car and Trust the Process), and many more.
Buy The Sound of Silence here, or the ebook here.
Praise for The Sound of Silence
Penned by women who have experienced miscarriage, this collection of their stories is diverse and down-to-earth, and each account is beautifully written.  Child magazines
'Extremely moving', 'eloquent' and 'achingly beautiful'  Parenting Express
Intimate stories that are sad, confronting and uplifting.  Birth Matters
This book is recommended for anyone who has experienced a miscarriage, but more importantly, for anyone working with childbearing families and others in society who have not experienced a miscarriage. No one can read this book and not gain a deeper understanding the impact an early pregnancy loss can have. It is seldom 'just a miscarriage'…The Sound of Silence takes the reader through what can often be the shadow parts of this journey in a deeply moving and honest way. We all can benefit from the wisdom and experience of the stories captured and shared here. This book is a very good addition to the library of anyone drawn to the field of prenatal and perinatal psychology.  Birth Psychology, journal of the Association for Prenatal and Perinatal Psychology and Health, USA  (read full review here)
Confronting, authentic and grounded, these stories provide practical help for others who share the loss.  Leanne Raven, CEO, SIDS and Kids Australia
A courageous, deeply moving, well written anthology of true stories. They will reach right into you and make an impact. This may be an essential resource for someone you know.  Gaytana Adorna, Southern FM
An open, honest and insightful book that offers hope and understanding.  Trudi Penrose-Starr, co-founder, TLC Pregnancy & Infant Loss Support Australia
Rather than being a depressing, sad account of an almost taboo subject I found this ultimately uplifting…Irma Gold as editor deserves a special mention. Not only has she judiciously selected the contributions to ensure a good balance of stories and to ensure the reader is not weighed down by dismal spirit-sapping accounts, but she has clearly demonstrated a gift for careful, respectful editing. Her introduction shows that she has her own story to tell and so she is empathetic with and sympathetic to the contributors. She sets their stories in the statistical framework but does not allow that to detract from the harrowing tragedies that they have experienced. Importantly, she allows the individual voices to be heard, and not edited out through any polishing process. Irma Gold is the best kind of editor—sensitive, skilled, and unobtrusive. An inspirational book.  Kristen Alexander
The Sound of Silence was the stand-out winner on every level. This book proved to be compellingly readable, boasted good production design and evidenced careful, respectful editing. Although neither of the judges initially expected to be taken by this volume, both ultimately found it absorbing and uplifting. The writing was of the highest quality and deserves a readership well beyond its niche market. In short: an inspirational book and a clear winner.  Judges report, ACT Writing and Publishing Awards for Nonfiction
Selected links
Read an article Irma wrote about her own miscarriage for Overland literary journal here, and another for Mamamia here.
Discover what readers think about The Sound of Silence here.
Listen to Louise Maher from ABC Radio interview Irma about The Sound of Silence: